Rabenhorst 11 Plus 11 Yellow Multivitamin Mixed Fruit Juice
Multi-Fruit and Multi-Vitamin Juice – 100% Pure Juice
Enjoy this aromatic-fruity composition of directly extracted juice or purée of eleven harmonically balanced fruits.
Do yourself something good with 11 PLUS 11 yellow of Rabenhorst and make an important contribution to your daily supply with vital nutrients.
Rabenhorst 11 PLUS 11 Multi-Vitamin Juice consists of 11 healthy fruits which support your immune health: pear, apple, orange, passion fruit juice, banana, mango and apricot pulp, pineapple juice, acerola puree, guava puree and grapefruit juice. This healthy mix fruit pure juice is high in Vitamin C, and gives you the optimal levels of antioxidants to combat free radicals in our daily lives.
As an added immune booster, Rabenhorst 11 PLUS 11 Multi-Vitamin Juice is fortified with 10 important vitamins and provitamin A.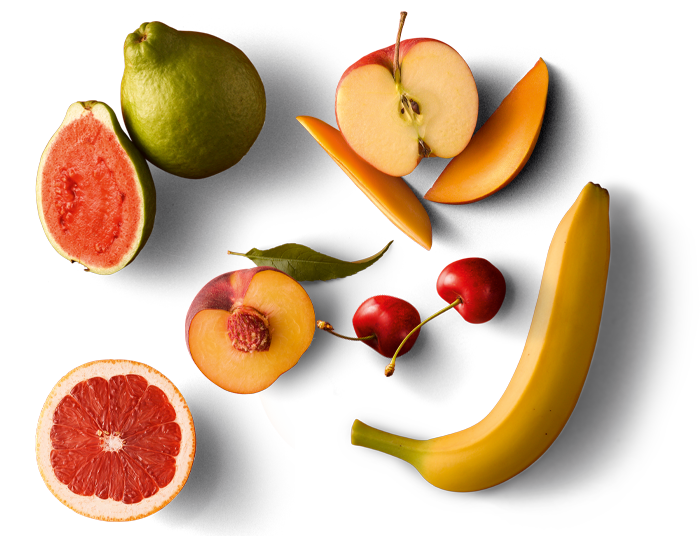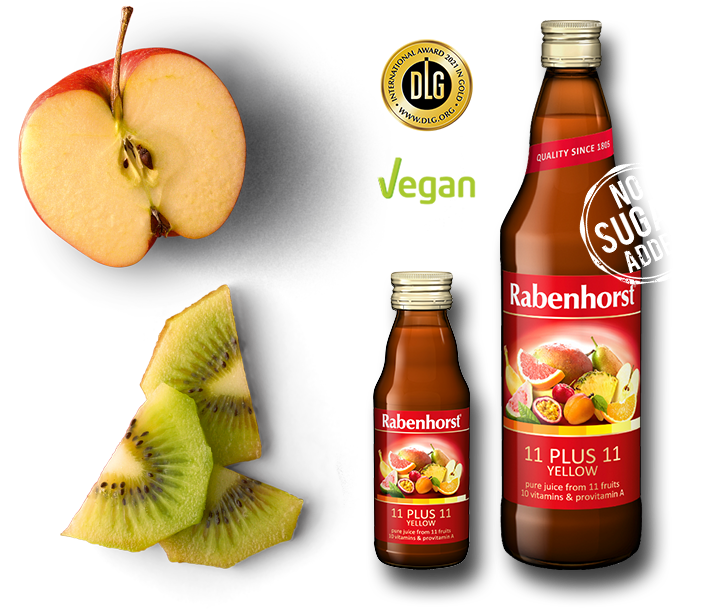 General Information about Essential Vitamins*
Provitamin A
Essential for many processes in your body, including maintaining healthy vision, support normal function of the immune system and organs.


Vitamin B1


Helps the cells in your body convert food into energy, supports the nerve, muscle and heart function. 

Vitamin B2


Also known as Riboflavin, it helps the body convert food into fuel, which is used to produce energy.

Vitamin B6


Supports your cognitive function and helps keep your nervous system and immune system healthy.

Vitamin B12


Helps keep your body's blood and nerve cells healthy and may have a positive effect on boosting your energy levels.

Vitamin C


Also known as ascorbic acid, Vitamin C has several essential functions, which include: helping to protect cells and keep them healthy, maintaining healthy skin, blood vessels, bones and cartilage.
Vitamin E
Helps protect your body from oxidative stress and may be beneficial in symptoms of chronic inflammatory conditions.


Niacin


Helps turn food into energy and helps keep your nervous system, digestive system and skin healthy.

Pantothenate


Also known as Vitamin B5, Pantothenate is important in the creation of hormones and other substances in the body.

Folic Acid


Helps make healthy red blood cells.

Biotin


Helps the body to metabolize carbohydrates, fats and amino acids, which are the building blocks of protein. 
*General information about the vitamins and provitamin A present in the juice, not meant for medical treatment reference.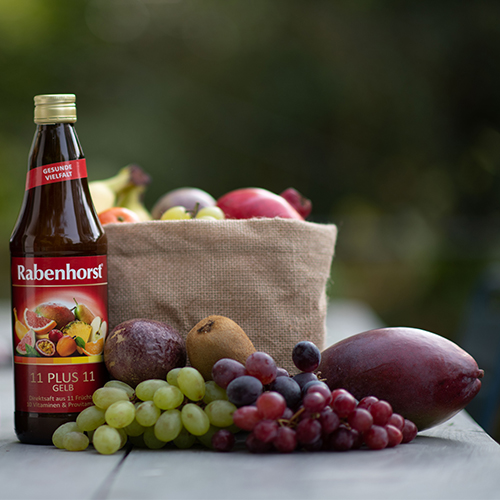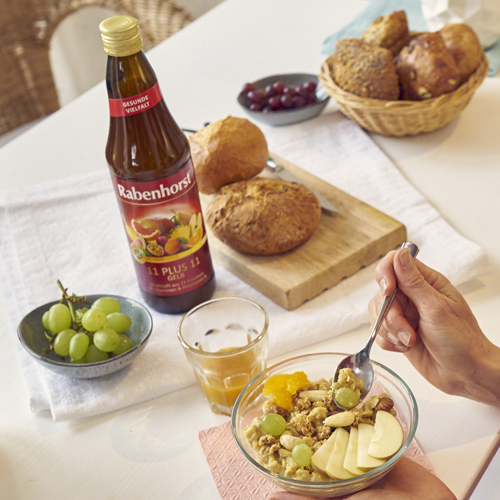 Recommended Dosage
We recommend a daily portion of 200ml.
Other Rabenhorst Products
You may also interested in our range of Rabenhorst Juice products such as Cranberry Pure Juice, Organic Beetroot Juice, Organic Wild Blueberry Nectar, Organic Cherry Nectar & Prune Juice.
Go to our Rabenhorst Main Page for an overview of all Rabenhorst products.